RAJIV GANDHI PROUDYOGIKI VISHWAVIDYALAYA
Airport Bypass Road, Gandhi Nagar,
Bhopal – 462036, M.P.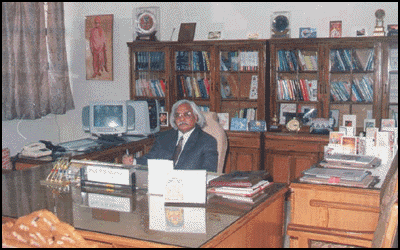 Prof. P.B. Sharma

Ph.D. (Birmingham), FIE, FAeroS, FWAPS.

Vice - Chancellor.
From the Vice - Chancellor's Desk.
The establishment of Rajiv Gandhi Proudyogiki Vishwavidyalaya (University of Technology of Madhya Pradesh) is a positive step in the right direction to revitalize Technical Education in the State of Madhya Pradesh. The University is committed to foster Quality at all levels including services offered by the University. The University shall promote synergetic partnership between the Institutions, R&D Houses and the Industries so as to ensure that we pool our strength together for a common cause i.e. to work together to assure higher levels of National Prosperity.
The University is currently gearing to meet the challenges of providing an up-dated and innovated curriculum, developing efficient and effective examination system and to promote efficient and committed Management.
The State of Madhya Pradesh is currently having 36 Colleges of Engineering admitting 7,140 students each year in addition to 57 Polytechnics having an intake of 6,240 annually.
The University is setting up an Advanced Information Technology Centre at its Head Quaters which will be networked with 5 RGPV servers being located at Indore, Gwalior, Jabalpur, Bilaspur, Raipur. The idea is to provide distributed services with a centralised control. Eventually we have to move closer to developing a Virtual University network so as to reach our students with ease and speed and cater for speedy dissemination of knowledge.
I am very happy that the Web-page of the University is being inaugurated by the Hon'ble Chief Minister of Madhya Pradesh who is committed to foster Quality Technical Education and Information Technology Culture in the State of Madhya Pradesh. I am sure that the Students, Faculty Members and the People in general will find the Information in the Web-page highly useful.
I wish to record my sincere appreciation to M/s. Satyam Infoway for assisting us in the preparation of the Web-page for the University.
Prof. P.B. Sharma.
Vice-Chancellor.